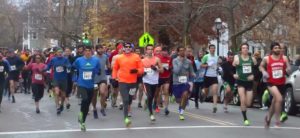 December 1, 2016
Another Successful Wild Turkey Run!
The day started cool and cloudy- perfect running weather for the 13th annual 5 Mile Wild Turkey Run in Salem, as nearly 2000 runners, volunteers and spectators took to the streets of Salem to start their holiday with this traditional holiday road race.
On behalf of the Boys & Girls Club of Greater Salem, thank you to our participants for joining us in our 13th annual Run. Your generosity and support of this annual event benefits our youth programs, and for that we are truly thankful.
This year's Wild Turkey Run was the 2nd largest in its' 13 year history and remains the largest race on the North Shore. We have added over 1900 additional runners since our inception in 2004! With this continued climb, this event has firmly taken its place beside other traditions such as High School Football, turkey and pumpkin pie.
Some interesting statistics from this year's Wild Turkey 5-Mile Run: For the 10th year in a row, women runners outnumbered men, 59.30% to 40.70%.  Runners ranged from 7 years old to 74 years old! First place finisher Caleb Evanter turned in the winning time of 26:00 from Dorchester, who won for the third time. The first female finisher was 5-time winner Christine O'Donnell-Hagan from Salem, who now lives in Vermont, with a time of 30:47. Competitors joined us from across the country, representing 24 states including  California,  Connecticut, Colorado, Illinois, Florida, Georgia, Idaho, Louisiana, Maine,  Massachusetts,  Minnesota, Missouri,  Maryland, New York, New Hampshire, New Jersey, Ohio,  Rhode Island, South Carolina,  Pennsylvania, Vermont,  Virginia, Washington and the District of Columbia.
This great event could not be possible without the support of our community sponsors. Major sponsors include: New England Running Company, Brooks Sports Co., Ernst & Young, Planet Fitness, Butterworth & O'Toole, Inc., Armstrong Real Estate, Footprint Power, Dunkin Donuts, and Perry & Perry Attorneys at Law. Additional race sponsors and donors include:  Caffé Graziani, the McDonough Family, North Shore Road Race Guide, Cape Cod Potato Chips, Waters & Brown, Boston Herald, Salem Moose Family Center, Kaloutas Painting, EBSCO,  John J. Walsh Insurance, East Boston Savings Bank,  Serafini, Darling & Correnti, Dr. Pat Curtin, JEOL, Cataldo Ambulance and www.stephenogrady.com.
Special gratitude to the many volunteers who donated their Thanksgiving morning to help out at the race: Tom O'Shea, Beth O'Grady, Beth Zois, Amy Walsh, Julie Bedard, Ellen Talkowsky, Ilene Simons, Mara Mendelsohn, Don Armell, Stan Szwartz, Lisa Golden, Amy Rein, Evie Oquendo, Chris Weis, Sabrina Garcelon, Isiah Simmons, Patty Scarpetti, Mario Fagone, Ed Zielinski, Natalie and Eric Thelen, Meghan Murtagh, Don Gallucci, Ben Hartley, Tom St. Pierre, Sandy Dalton, TR Ramsdell, Alison, Kerry and Natalie Phelan, Paul Cranney, John Landry, and the great cheering group from the Willows neighborhood.
Special thanks to the Salem Police who did a great job of controlling the traffic during the race to keep the runners safe, and to the many Salem residents along the route who cheered our runners on!
For those of you inspired to try a new all-terrain race series in 2017, watch for details to be posted soon on Facebook at these pages: North Shore Road Race Guide and salemroadraces.com, or email dbollen@bgcgs.org for further information.   Again, thank you everyone for making this a great Thanksgiving event!
Doug Bollen
Wild Turkey Race Director
Chief of Operations
Boys & Girls Club of Greater