5th Bridge & Back 10K set for August 6, 2017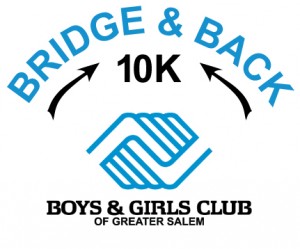 The 5th Annual
 The Bridge & Back 10K
Run Across the Salem/Beverly Bridge and Back!!
Sunday, August 6, 2017 @ The Tavern in the Square
8:00 am
Race packet pick up w/ numbers & shirt Friday, August 4, from 2pm to 6pm at the Tavern in the Square, in Salem & Saturday August 5, from 10am to 5pm at New England Running Company, in Beverly or pick up on race day from 6:30am.
 Link to register on line: https://racewire.com/register.php?id=7758
Entry Fee: $25 pre registration; $28 race day
**** CHIP TIMING on Bib number provided by Racewire.com
Register Early: Short Sleeve  Technical Shirts for first 400 entrants!
(Sorry, shirt sizes cannot be guaranteed)
Awards: Overall winner male and female, and top three males & females in each category:
14 & under, 15-19, 20-24, 25-29, 30-34, 35-39, 40-44, 45-49,
50-54, 55-59, 60-64, 65-69, 70 & over
Post Race: refreshments, Beer provided by Sam Adams for runners! and awards inside the Tavern
Info: Boys & Girls Club of Greater Salem  (978) 744-0915 or 
Email: dougbollen12@yahoo.com or dbollen@bgcgs.org
—————————————————————————————————————————————–
This entry was posted on Wednesday, March 29th, 2017 at 10:54 am and is filed under Uncategorized. You can follow any responses to this entry through the RSS 2.0 feed. Responses are currently closed, but you can trackback from your own site.