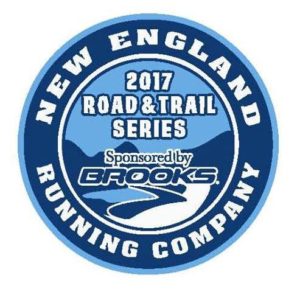 Brooks – New England Running Company
2017 All Terrain Series
Brooks Sports Company and New England Running Company (NERC) are hosting a race series for 2017. There will be nine racing events offered, and finishers of all 9 races will receive a high quality Brooks running apparel item.  Those who can only complete 8 of the 9 races will receive a Brooks technical shirt. The Brooks Race Series gives runners a chance to experience a variety of races on the North Shore in Salem, Beverly, Lynn, Danvers, Essex, Ipswich and Hamilton. All races support local non-profit agencies and charities, so your hard work will not only be rewarded, but will help benefit community programs on the North Shore. The 2017 race series includes:
1) Sunday, April 30: The Tapleyville 7 Mile Run  Danvers, 9:30 a.m. 7 miles: The  course  incorporates part of weekly D5K and the new trail. Proceeds benefit Boys & Girls Club of Greater Salem and the Alzheimer Association.
2)  Saturday, May 13: Essex Country Trail Association Half Marathon  Ipswich. 8:00 a.m.  Join us for the 3rd Annual Spring for the Trails on Saturday, May 13th.  The race will be held on beautiful trails, both single and double track, in Willowdale State Forest.  To benefit the Essex County Trail Association. Help us to preserve and maintain the beautiful trails in our communities!
3) Sunday, June 18: New England Running Company 10 Miler, Beverly, 7:30 a.m., 10 miles:  This race starts and finishes at the Cove Community Center and follows scenic Route 127. Proceeds benefit the Boys & Girls Club of Greater Salem and the Alzheimer's Association.
4)  Saturday, July 15:  Essex County Greenbelt Association's Run for the Hills 5K and 10K Trail Race, Hamilton, 9 a.m. Back for a third year! Meet at the Pingree School, Hamilton. Visit http://www.ecga.org/Events/trailrun.html for details.
5) Sunday, August 6:  Bridge & Back 10K, Salem,  8:00 a.m.  6.2 miles: This race kicks off Heritage Week in Salem, and starts and finishes at The Tavern in the Square in Salem. The race crosses the Salem/Beverly Bridge, through Beverly and returns back over the bridge to Salem.  All proceeds benefit the Boys & Girls Club of Greater Salem.
6)  Saturday, August 26:  Greenbelt  Essex  5 .30 miles / 8.54 km. 9:00 a.m.  Starts at Cox Reservation  Essex,  out & back, mixed flat & hills. Essex County's Land Trust is the most effective champion of land conservation, working to conserve the farmland, wildlife habitat and scenic landscapes throughout the region.
7) Saturday, October 21:  Pink Angels 5k Trail Race  Lynn Woods, 5k, 9:00 a.m.   Come join us for a morning of fun and fitness to support The Pink Angels in their goal of eliminating breast cancer!  This amazing group has raised over 2 million dollars since 2005 to fund research, and community outreach programs related to breast cancer issues of all kinds.
8) Thursday, November 23: Wild Turkey 5 Mile Run, Salem, 8:00 a.m., 5 miles:  This Thanksgiving Day event follows a fairly flat course along a scenic, waterfront route. Voted Best Holiday race by the North Shore Road Race Guide. Proceeds benefit Boys & Girls Club of Greater Salem.
9) Monday, January 1, 2018 : Frosty Four New Year's Day Race, Salem, 10 a.m., 4 miles: A relatively flat course, some rolling hills. In partnership with the Wicked Running Club; a portion of proceeds will support youth scholarships.
There is no fee to participate in the 2017 Race Series (aside from the race registration fees). Races may be subject to change.
Just fill out this application and return it by 4/1/17 to be eligible for a shirt (finish 8 races) or a jacket (finish all 9)!
—————————————————————————————————————————————————————————————————
YES! Please enter me into the Brooks 2017 Road Race Series:   (races may be subject to change).
Unisex Sizes (Circle One):  XS,   S   M,  L,   XL    (Shirt for finishing 8 races; jacket if you finish all 9. One item per finisher)
Name:______________________________________________________ Age (as of 1/1/17):______   Circle One:   Male     Female
Email______________________________________________________Address:_________________________________________
City:_________________________ State:_____ Zip:________       Return by 4/1/17 to: dougbollen12@yahoo.com or
                       Doug Bollen, Boys & Girls Clubs, c/o 2017 Brooks Race Series, PO Box 24, Salem, MA 01970